Singer Confidence 7463 Sewing Machine
Yes we would recommend the Singer 7463. In fact read what our customers have to say about it.! Find out why it's a best selling computerised sewing machine. Great specification and a quality product in one package
Now Only
£249.00
Regular Price
£295.00
Sat, Sun Options.
FREE Delivery by DPD
on Tuesday 7th December
Computerised 10 Year Warranty & FREE UK Delivery
Recommended for experienced sewers or first-time users, the Confidence 7463 is a computerised sewing machine by Singer will inspire. After researching how machines are used and for what purpose, Singer developed the Confidence range. And yes it has become a best seller particularly in the United Kingdom.

Reliable and with a good range of 30 stitches, the 7463 it is ready to tackle any stitching task. From silks to jeans. Form t-shirts to quilts it will not disappoint. Stretch over-edge or straight stretch, scallops, hand effect quilt, multiple zig-zag, slant and straight binding, blind hem and other popular stitches are only a press of the button away. Heavy jacket weight and light cotton full automatic one-step buttonholes are not a problem, each will be sewn the correct size for each button. The Singer 7463 even has a button sewing-on setting.
A nice touch is the "AUTO" top thread setting. There has never been a need for us to adjust it from this setting for the demonstrations we have done in the past. Of course, you can tighten the tension when needed for smocking or gathering if needed. Re-programmed stitches can also be adjusted for width up to 7 mm and length up to 5 mm

Bobbin loading is from the top. It has a transparent bobbin cover for a good view when the thread is running low. Like most computerised sewing machines, threading is not a complex task. The built-in threading hook helps with threading the needle eye.
It uses the electronic speed control for super smooth stitching even over heavyweight materials. Twin needle, 13 needle positions and a high foot lifter are good features that quilters like.
Singer engineered the 7463 with simplicity in mind and I'm sure it would be a well suited to all household sewing jobs. It's a machine that will last many years.
Key features:
Computerised ease of use, Needle threader, Automatic thread tensions, Automatic buttonholes, Good selection of stitches for home use.

Accessories:
3 Bobbins, Needle pack, Lint Brush, Seam Ripper, Screw Driver, Adjustable Blind Hem Foot, 2 Sided Zipper Foot, 1-Step Buttonhole Foot, Satin Stitch Foot, Zig Zag Foot, Feed Cover, Second Bobbin Pin, 3 Thread Lead-off, Foot control and power lead, Instruction Manual
Product Features

| | |
| --- | --- |
| Code | 4996856110023 |
| Brand | Singer |
| Model | 7463 |
| Classification | Sewing Machine |
| Complimentary | Computerised 10 Year Warranty & FREE UK Delivery |
| Guarantee | Extended Warranty 10 Years Parts and Labour |
| Approximate Weight (kg) | 7.5 |
| Dimensions | W43 cm x H33 cm |
| Electronic Foot Pedal | Yes |
| Bobbin Location | Top Loading |
| View Through Bobbin Cover | Yes |
| Hard Cover Included | No |
| Auto Thread Tension | Yes |
| Built-in Threader | Yes |
| Thread Cutter | Manual |
| Stitches | 28 |
| Utility Stitches | Straight, Zig-Zag, Multi Zigzag, Blind Hem, Stretch Blind Hem, Straight Stretch, Overlock Stretch, Scallop, Ric Rac, Honeycomb, Herringbone, Gathering, Applique, Sew-On Buttons, Quilting Stitches, Closed Overedge |
| Buttonhole Steps | 1 Step Auto |
| Buttonhole Styles | 2 |
| Twin Needle | Optional |
| Max Speed Setting (spm) | No |
| Needle Up/Down Function | No |
| Built-in Top Feed | No |
| Built-in Drop Feed | No |
| Hook Movement | Smooth Rotary Action |
| Needle Positions | Left / Right / Centre |
| Tutorial CD / DVD | No |
| Voltage | 220-240 Volts |
Customer Reviews
I've been using my Singer Confidence 7463 now for around a month for a variety of projects including altering clothing (jeans, t-shirts, jumper) making new clothing (t-shirts, pyjamas), and various hold-all's etc.

I am delighted with the 7463 and the price point suited me. This is my first computerised machine. The 7463 is a revelation compared with my trusty but ancient manual ones, it is so easy to change between stitches, change the foot and generally friendly to use. The foot controller is smooth and easy to modulate for precise start and sewing speed. I like that a quick tap on the foot controller gives just one forward stitch so this means it is easy to advance one stitch at a time where needed. I have been used to the presser-foot lifting lever being at the back, though, so positioned to the right-hand side as it is on the 7463 initially took a bit of getting used to.

There are some things I find which I think could be better regarding Forward/Reverse. These are not deal-breakers though and I would buy the same model again.

The reverse button itself is too easy to nudge accidentally when handling the workpiece or even when threading up. Familiarity with the machine mostly overcomes this. However, a little trick I have is to move the bobbin-winder to the right when I am worried about an inadvertent button-nudge (the bobbin-winder disengages the needle motion) and then move it back to its normal position again to start sewing. This is an occasional thing I do rather than frequent.

Something I had not expected is that after stopping forward sewing, when the reverse button is then pressed, the machine puts in one extra forward stitch before it goes backwards. If you then stop, and press the foot controller to go forwards, it puts in one further backwards stitch before it goes forwards. Now I don't know whether all computerised machines do this or not. Generally it is not a problem, but when very precise stitching is needed, it means extra care/planning is required for accurate results. This seems at odds with the general simplicity of operating the machine. I suspect it has something to do with the needle-stops-at-top feature (which I do like), a limitation perhaps regarding how this feature works.

And one other thing, the machine likes a momentary pause between releasing the controller and pressing it again, or before using the back button, and vice versa, else it does nothing. This is something that is easily accommodated after a while.

Great product and service.
This is an excellent machine: versatile, resilient, silent and compact.
The 10 years warranty give you piece of mind.
Definitively recommended.

I purchased this singer sewing machine to replace my John Lewis sewing machine. I was never that impressed with my old machine, when I received my new Singer machine, wow! It's effortless to setup and start sewing. I love using it, it smooth running. I can't wait to start my next project.

I have enjoyed sewing for many (many many!) years and have a Singer machine. I bought this one for my 23 year old daughter as an upgrade from a much smaller one she's used since being about 12. It's a very nifty machine indeed - easy to use, solidly built and will last her many years I'm sure. Excellent value for money too!

This machine is so simple, i have had it hang on tougher fabrics but it managed to sew a leather coin purse no problem and with most of the bits I have made the machine didn't need me at all, it pretty much does everything except press its own pedal lol

Love it, love it!! Super bright light, quiet when sewing and the self threading needle option is just brilliant.

Excellent hardly does justice to describe your service and my new Singer Confidence 7463, delivered earlier today (Wednesday) to the West of Ireland after ordering Saturday afternoon. The machine does everything I could want and the automatic needle threader is a revelation - eyesight not what it was after nearly 50 years of sewing.

Great machine and a lot quieter then my previous machine which I have had about 37 years. The process of ordering and delivery was excellent and would recommend this company to everybody.

Yesterday 30/3/19 took delivery of my new Singer confidence 7463. The delivery was on time, within the hour stated in the text and email. The machine it was replacing, was the first thing I brought when I started work, almost 40 years ago. It has served me well, but needed replacing.
I am so pleased that I took the plunge. The confidence 7463 is so quiet and runs very smoothly. I too struggled with the automatic needle threader. But with a few tries, I had it sorted. I've been busy and made a new dust cover for it. You get do get a cover with the machine , but its flimsy and won't last long.
Just a thought, there is no mention on how to change the bulb, in the manual, should it fail.
I am more than pleased with the service and the machine. I know I'll have many hours of happy sewing.


My old Singer sewing machine has lasted over 30 years but recently stopped working. I decided to treat myself to a new machine. There are so many makes and models to choose from these days and I agonized over making the choice for a few weeks. In the end I went for the Singer Confidence 7463. It arrived promptly within just a few days of me placing my order. Buying direct from Singer is worked out to be a bit cheaper than at other outlets even with the cost of the postage to France. I found the instruction booklet to be quite helpful except the instructions for automatically threading the needle, which was one of the things I really wanted to use. The diagram wasn't too clear but once I had mastered it, I found it to be very easy and quick to use. I have had the machine less than a week now and am delighted with it. The only thing I would criticize is the flimsy cover, but that seems to be the same for all makes these day. Fortunately I still have the one from my old machine, so am using that. For anyone trying to make up their minds about which machine to buy for either beginners or more experienced users, I would definitely recommend this one. It's a good buy and I hope will last as long as my old Singer.
Write Your Own Review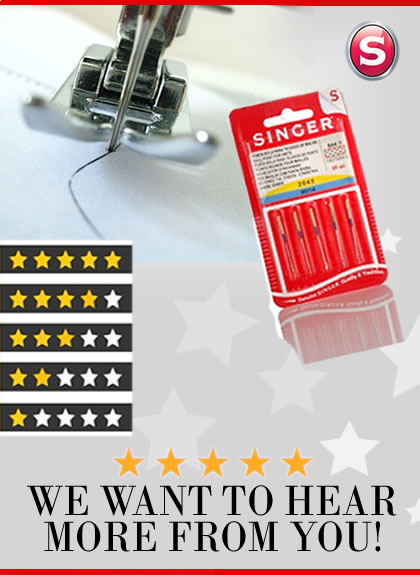 FREE deliveries on all sewing machines within the UK mainland excludes highland, Islands and weekends.
Under £30 - delivery starts at 0.99p (weight/size dependent)
Over £30 - delivery is free in UK mainland
Small Items:
We use Royal Mail post for all small/med packages which are sent out same day where possible if ordered before 1 pm.
Usual delivery timescale 2-4 days. (7-14 days Airmail outside the UK)
Larger Items: Sewing machines, overlockers.
Free UK main area next working day insured delivery.
We use DPD, UPS, UK Mail and Parcel Force with pick-ups twice a day. UK next working day delivery for large items which are usually shipped the same day where possible if ordered before 3pm.
We can deliver on Saturday or Sundays as well as any week day.
And with a 15 minute delivery time slot.

There could be delays caused due to circumstances beyond our control but we will do what we can to limit these and ensure you get your order as quickly as possible.
Non standard & further detailed delivery information for europe or worldwide can be found here. All delivery time-scales are given as a guide only.